DAWN OF THE DEAD
was released April 20th, 1979 and it changed horror cinema forever. George Romero hit it out of the park yet again, creating a socially relevant horror epic that people still hold near and dear. I know that it was in constant rotation in my teen years as my friends and I rented and re-rented the movie to watch during weekend late night horror movie marathons.
As I became older, I saw how significant the film was for horror and the zombie genre. From the story points to the makeup effects, DAWN was a groundbreaking horror film that people will never forget.
But, are we done with zombie films now? Is the current zombie cycle over? These things are cyclical, moving from zombies to vampires to aliens, usually. (
Sadly, werewolves seems to miss the horror cycle rotation...not sure why...
).
I still love a good zombie film. I have several that I think are well worth a viddy. Check out my list and let me know what you think!
Dawn of the Dead remake
https://www.youtube.com/watch?v=j69OPw9nFHw
I thought I was going to HATE this remake, but...nope....I friggin loved it. I was turned around by the opening scene and was giddy with joy all the way through. I know some people still shun this film, but....aside from a few trope issues of the 2000s, the film is a super solid horror vehicle that took the brilliance of Romero's DAWN and made some interesting changes to make it work for modern audiences.
Night Eats the World
https://horrorsho.blogspot.com/2018/12/the-night-eats-world.html
I thought this was a super solid film showing one man's struggle to stay afloat by himself during a zombie outbreak.
WILD ZERO!!!!!!
https://www.youtube.com/watch?v=YQ_D9OjDoQ0
ROCK AND ROLL ZOMBIE MADNESS FROM JAPAN THAT NEEDS TO BE IN ALL CAPS WITH LOTS OF EXCLAMATION MARKS!!!!!!!!!! SO GOOD!!!!!!!!!!
Night of the Hunted
https://horrorsho.blogspot.com/2018/09/the-night-of-hunted.html
An arthouse alternate zombie style film from the wondrous Jean Rollin. Beautiful and haunting, but not a traditional zombie film. Be warned. :::grin:::
Dead Set
https://horrorsho.blogspot.com/2012/08/dead-set.html
One of my all time favorite zombie epics of all time. TV studio employees and actors deal with a zombie outbreak. A brilliant 5 episode series.
Dawning of the Dead
https://horrorsho.blogspot.com/2017/11/dawning-of-dead-2017.html
A fun, lower budget UK zombie offering that was highly entertaining.
Burial Ground
https://horrorsho.blogspot.com/2017/05/burial-ground-1981.html
Classic Italian 1981 horror film that must be seen if you love 80s horror. It's bonkers.
Mutants
https://horrorsho.blogspot.com/2013/12/mutants.html
Stylish French zombie film that straddles sci fi and horror. Again, not traditional zombies, but so good.
Train to Busan
https://horrorsho.blogspot.com/2016/09/train-to-busan-i-love-you.html
I think we've all heard of this film by now. TRAIN TO BUSAN is one of the best zombie films to be released in the past 20 years. While it may be hard for some to "get" some of the Asian cinema elements of high drama, it's a ride that not only shocking, but also heartfelt.
Shaun of the Dead (D'uh)
https://www.youtube.com/watch?v=LIfcaZ4pC-4
Yeah...it's great. :::grin::: No need to talk about it more.
Wyrmwood
https://horrorsho.blogspot.com/2015/08/wyrmwood-road-of-dead.html
Aussie zombie goodness. MAD MAX meets an early Peter Jackson film.
Nightmare City
https://horrorsho.blogspot.com/2014/10/nightmare-city.html
More Italian horror goodness from the 80s. Zombies....with weapons!
The REC Series of films
REC3 -
https://horrorsho.blogspot.com/2013/03/rec3.html
A fantastic series of zombie films with a twist. [REC] 1 and 2 are fantastic and, while the series tends to take a dip after that, they are still highly entertaining films.
Undead
https://youtu.be/Ok8J-xyS4H0
Another cool Aussie zombie offering that has a lot of fun with the genre. Strange comedy elements abound as well.
Sugar Hill
https://horrorsho.blogspot.com/2012/11/sugar-hill.html
A classic "blacksploitation" zombie film that is a must see. For the longest time, I thought it was just a black crime film from the 70s, but it's actually a super cool, voodoo zombie extravaganza!
STACY: Attack of the Schoolgirl Zombies
https://horrorsho.blogspot.com/2012/11/stacy-attack-of-schoolgirl-zombies.html
Bizarre j-horror zombie goodness with wild visuals, a crazy story, and a TON of blood and gore!
Doghouse
https://www.youtube.com/watch?v=A8rsPuFN8wg
Silly and fun UK zombie romp that explores the "battle of the sexes" with a zombie twist. A goofy zombie comedy and is highly entertaining.
One Cut of the Dead
https://www.youtube.com/watch?v=4wBImbHqhFk
Went into this cold and wasn't disappointed. I don't want to say much about this for fear of ruining it, but it had an amazing story and some wild shots.
The Dead
https://horrorsho.blogspot.com/2012/02/dead.html
Bringing the slow moving zombie back to the screen, THE DEAD takes place in Africa and has some grand scenes of high tension as a man makes his way through the treacherous African landscape made even more dangerous due to a zombie outbreak.
The Horde
https://horrorsho.blogspot.com/2011/01/horde.html
High energy zombie madness from France. High on blood and tense action without letting much story get in the way of the thrills. ; )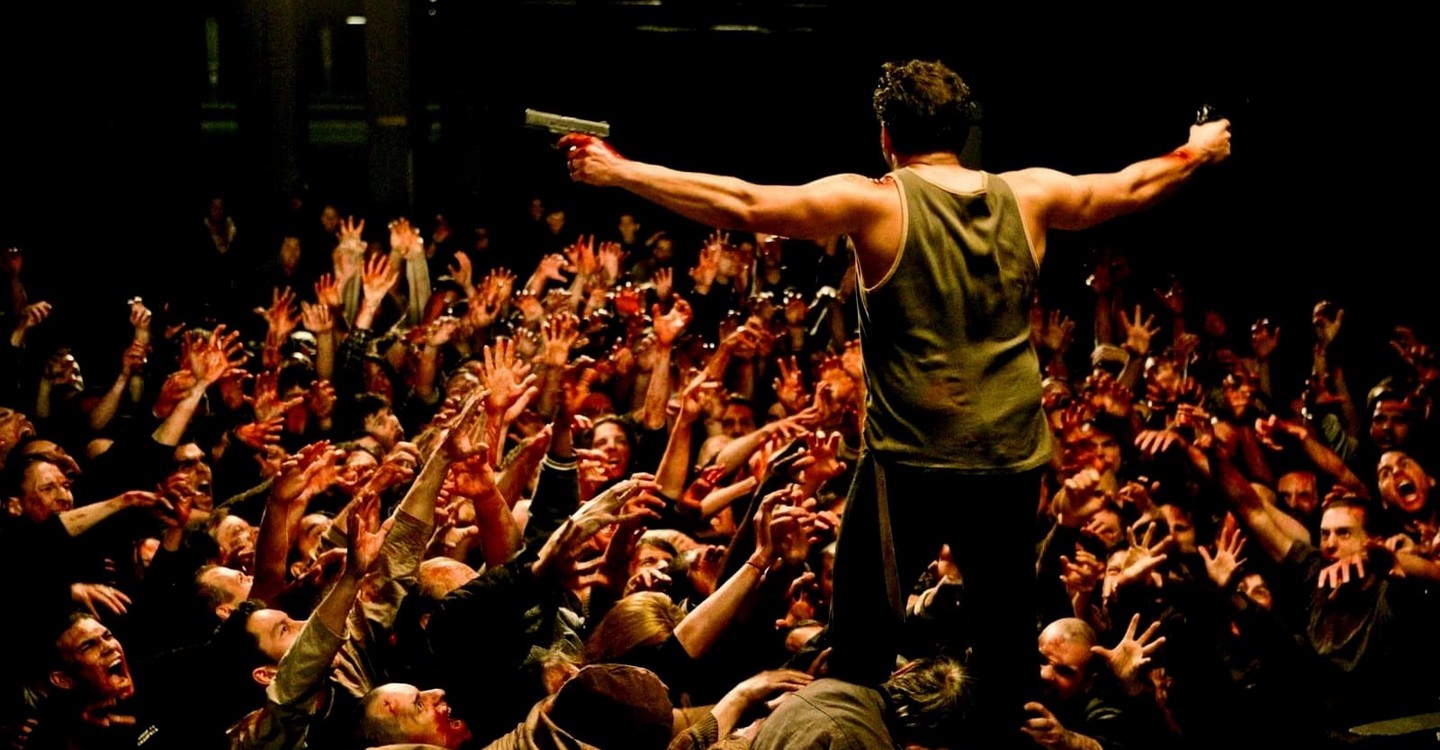 Cemetery Man
https://horrorsho.blogspot.com/2010/09/cemetery-man.html
Stylish 90s film with zombie elements. In this non-traditional zombie film, Francesco Dellamorte takes his job at the cemetery very seriously...because he needs to re-kill the people who are buried there a little while after they are put in the ground. Beautifully shot with a comic inspired esthetic, Cemetery Man is a super cool and strange horror classic.
Hope this gives you something to do while you Shelter In Place! :)